Let's be honest, we all hate wires, especially when it comes to music peripherals like earphones, and we have made quite a lot of progress with them. One of the latest innovations is the TWS earbuds which stand for Truly Wireless Stereo and does exactly what the name suggests. These handy devices are gradually becoming everyone's favorite devices thanks to the portability and comfort they come along with.
Well, brands understand the trend, and that's why you can easily see the market right now is flooded with so many choices that are enough to confuse you. I have handpicked a list of the best earbuds under 1500 in India to solve this problem. So let's quickly start with the first product on our list.
These are the best earbuds under 1500 list
Boat Airdopes Atom 81 has recently launched these latest TWS earbuds in the Indian market, and you can buy them for Rs. 1,499. They are available in PearlWhite, OpalBlack and AeroBlue colour variants. They feature 13mm drivers and cool new features like ENx™ Technology, BEAST™ Mode, latest bluetooth v5.3, and fast charging.
The charging case has a glossy body and a transparent finish, making it pretty good-looking. The case has a USB Type-C port and an LED indicator indicating battery and connectivity status.
These earbuds are lightweight, that nicely fit your ears, and can be worn for long hours without any signs of ear fatigue. They come with touch and gesture controls which I personally like them for. You can also control media using the touch controls placed on the earbuds.
The 13mm dynamic drivers sound pretty good and offer an overall balanced sound quality. The bass output is also good, and you can get an enhanced bass output using the compatible application. The microphone also does a good job recording your audio and can be used for meetings or calls, although it struggles a bit when the environment is windy.
These wireless earbuds alone can give you a battery life of about 8-9 hours on a single charge, and meanwhile, with the charging case, you can get up to 40 hours of total battery life. boAt Airdopes atom 81 is a feature-rich earbud, making it one of India's best wireless earbuds for under Rs 1500.
Pros
13mm Drivers
50 hours Playback
50ms low latency
Latest Bluetooth v5.3
Ipx5
Quad Mic Setup
Long battery Life
Cons
Easily Get Scratch
Feel Irritation wearing long time
Not fitted while
Driver Size: 13mm
Bluetooth: Bluetooth 5.3, up to 10m
Codec Support: AAC, SBC
Battery: Up to 40h (Case + buds)
Charging: Approx 40 min for earbuds, 1hours and 40 min for charging case
Water Resistance: IPX5
Quad Mic: Yes
Other Features: IWP, Low Latency, Fast Charging
---
Oraimo FreePods 3 has recently launched earbuds that you get for under Rs. 15,00 in India. The FreePods 3 is an update to the Oraimo, launched in 2022, and has made quite an impressive number of changes. The Oraimo FreePods 3 is available in two different colours – White and Black.
The Oraimo FreePods 3 looks exactly similar to the previous boAt Airdopes atom 81 with a half in ear shaped Earbuds with a glossy finish over it. The new thing is that the FreePods 3 has a black variant that wasn't there on the FreePods. Although the glossy white variant would be prone to fingerprints and scratches, you can go with the black variant, which has a matte finish over it.
The part that I like the most is that two different fits each which makes them pretty comfortable and can be worn for several hours without worrying about your ears hurting. The other good features include environment noise cancellation(Enc), which works like a charm and cancels out 80-90% noises.
Another good thing is that the case and the earbuds both are IP certified, which is pretty rare to see in earbuds under 1500. The earbuds are IPX5 certified; meanwhile, the case is IPX5 which means you can take them to your swimming sessions without a second thought.
Now coming to the sound quality, the 13mm driver does an excellent job of delivering a loud and punchy bass output. The mids feel slightly overpowered by the treble, and the highs sound slightly sharp, which I don't like.
The earbuds individually can give you a battery life of about 7-8 hours on a single charge. Meanwhile, with the charging case, you can get a battery life of up to 36 hours on a single charge. Overall, the Oraimo FreePods 3 is feature-rich and surely one of the best wireless earbuds under 1500.
Pros
Decent design, comfortable fit
Good ENC
Bass reach good sound quality, punchy bass
Water resistance for both the earbuds and the case
Good microphone
Good battery life
Bluetooth version: 5.2
Wireless range: 10 m
Battery life: 36 hrs
Bluetooth Range: 10m
Driver Size : 13mm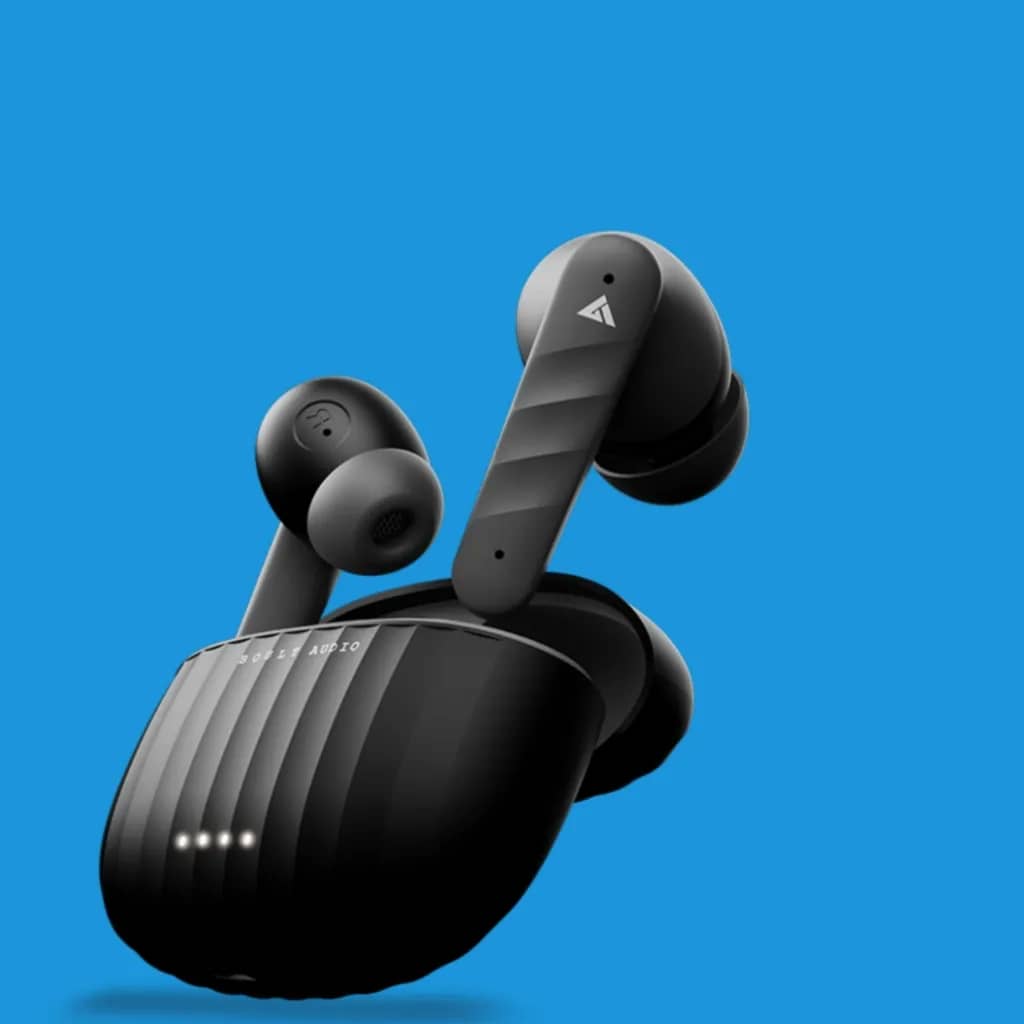 Boult Audio has been releasing some of the best and most innovative tech gadgets in the market for a while now, and their new Boult Audio X45 are no exception. The Boult Audio X45 has a unique design that sets them apart from other earbuds in the market. Not just the design, but the sound quality, decent ANC, and other unique features are also the reason to choose Boult Audio X45 over other TWS earbuds.
First, let's talk about their design. The Boult Audio X45 has a refreshing stem-shaped design that fits comfortably in your ear. If your ear size is small, you may need some time to adjust to these earbuds but do not worry if you have medium and large ears.
The earbuds are available in three colors: Grey, Black , and Green, and have a matt finish that feels premium. The build quality is also good, so you can count these buds in the durable category.
Coming to sound quality, the Boult Audio X45 sounded good for the price, with decent detail and soundstage adding some character to the sound. The mid-low and higher frequencies are not very detailed, but still, it performs well compared to others in this price range. If you are a bass lover, you will like the Boult Audio X45 tuning.
The ENC performance is decent, and I say it justifies the price tag. Apart from this, Boult Audio X45 is also good for the call. The battery backup is also decent. At full charge, the Audio X45 is expected to last for 7-8 hours, and the battery case cover can provide over 32 hours after full charges, meaning you can expect close to 40 hours of total playback. Yes, it also supports fast charging. So how does that compare to the competition?
Overall, Boult Audio X45 may not be the best option in this segment, but definitely a bang for the buck product.
Pros
Unique Stylish look
Decent ENC
fast charging
Good mic quality
Ultra low latency
Latest Bluetooth
Cons
Decent sound with good bass
ZEN ENC with Quad Mic,
40H Playtime,
45ms Ultra-Low Latency,
5.3 Bluetooth
IPX5 Water Resistant
Voice Assistant
Touch Control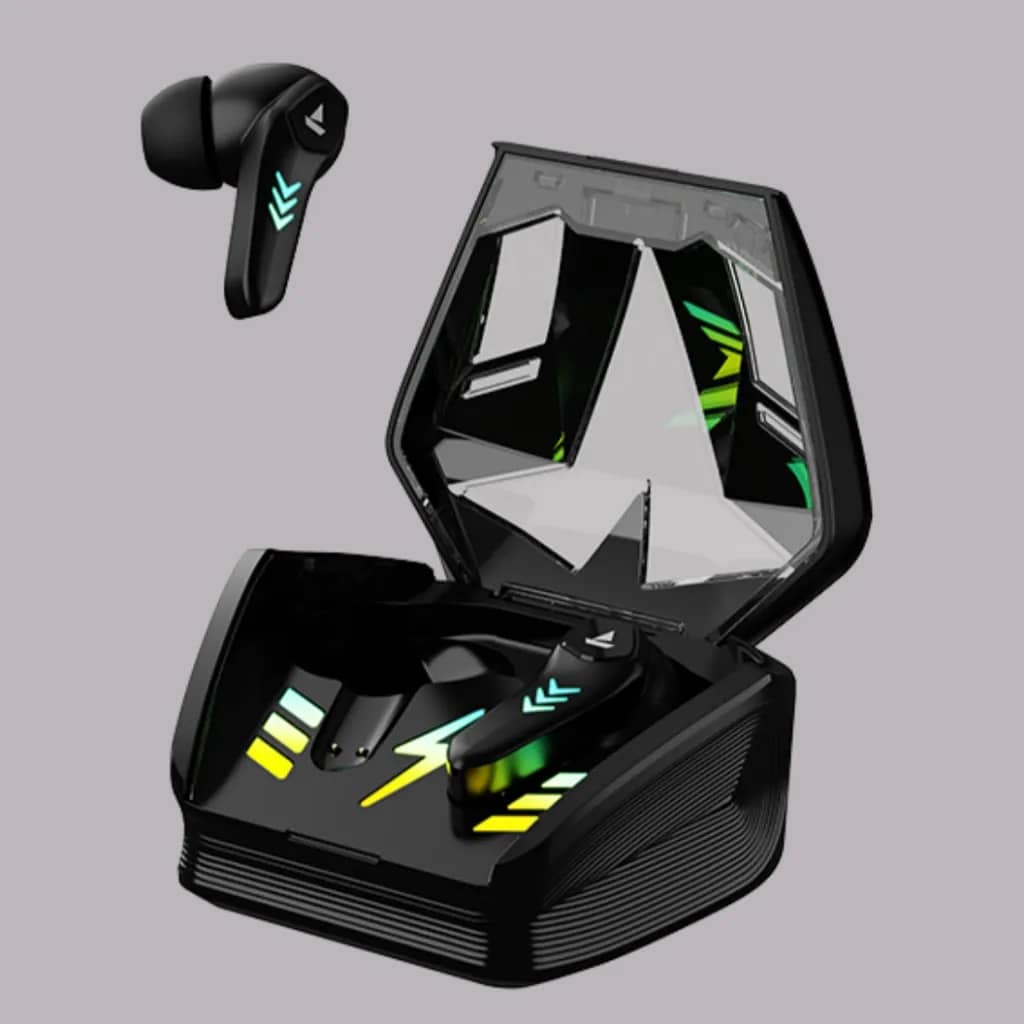 The boAt Airdopes 190 is our next choice on the list of best earbuds under 1500. Keeping up the trend like the previous version (Airdopes), boAt Airdopes priced this one fairly at just under Rs.1999. The new boAt Airdopes 190 carries many traits of its predecessor, with subtle changes here and there.
The newer Airdopes 190 retains the same stem shape Earbuds as the previous one but with RGB light. Two color variants are available for the Airdopes 190, ranging from black and grey. The Earbuds are lighter than the previous one making them suitable for long audio sessions. In terms of look, the buds have a dual-tone finish with a glossy head and matte stems, like the previous one.
Check bOAt Airdopes 190 detail review
Considering the price, the Airdopes 190 really exceeds the audio department. The 10mm drivers in the Airdopes 190 offers an overall great sound quality. The main area of focus is the Bass, which has been improved from the previous gen. The Bass sounds more natural and less boomy, which may be pleasing for audiophiles.
The Enx™ does its job of canceling out low-frequency sounds, but the buds provide enough natural noise isolation. The buds are IPX4 sweat and water resistance, so some splashes and sweat during heavy-duty activities may affect them.
The Airdopes 190 can provide up to 8-9 hours of playback time and a total of 30 hours with the charging case. The charging is done via a USB-C port and supports fast charging. Overall The boAt Airdopes 190 is a great value for money, especially in terms of audio.
Pros
Unique look and solid build
Good sound quality with good bass
Decent ANC
Lightweight
Full customized RGB
Cons
No dual paring
No google fast pair support
Beast Mode(50ms) for Gaming,
40H Playtime,
Breathing LEDs,
Signature Sound,
Quad Mics Enx Tech,
ASAP Charge
Bluetooth v5.3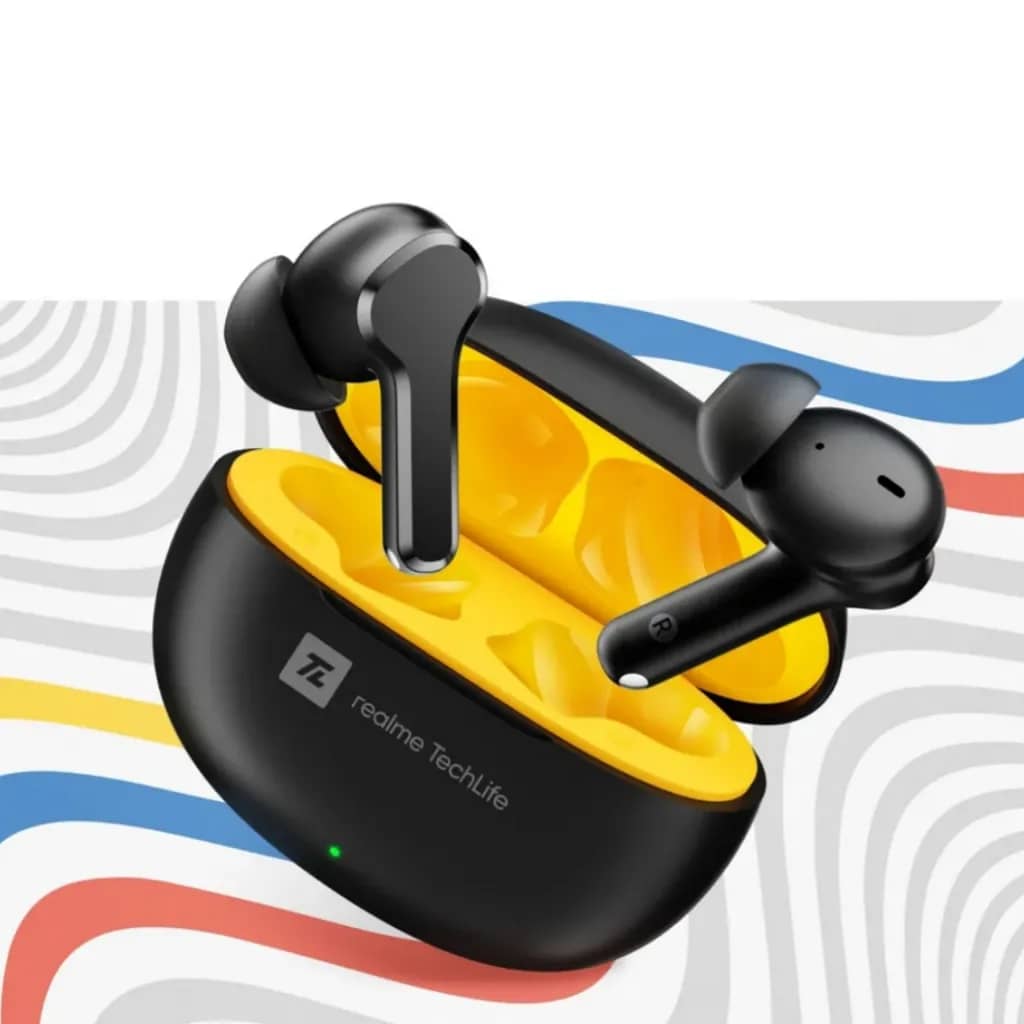 The Techlife T100 is the latest Realme Techlife T series installment. With a price tag of just around Rs 1500, it is one of the best wireless earbuds under Rs.1500 in India.
Speaking of design, the pebble-shaped case comes with a dual tone design with a matt finish on the lid. The Techlife T100 is available in three different colors :- jazz blue, punk black and pop white.
Check Realme Techlife T100 Detail Review
The case is compact, so carrying it in your pocket won't be a problem also, there are no physical buttons on the case. The lightweight buds make them comfortable enough for long usage.
The Realme Techlife T100 features a 10mm dynamic bass driver that delivers a loud and clear sound. The vocals are crisp, with a good level of bass, so normal users won't find many things to nitpick on the sound quality. You can customize the sound profile through the realme link app if you are a realme user.
Since these earbuds cost less than 1500, some advanced features, such as Active Noise Cancellation (ANC) and Fast Charging, are missing. So, noise infiltration during listening or calling is prevalent.
The Earbuds alone can give you a battery life of about 5-6 hours on a single charge, and meanwhile, with the charging case, you can get up to 20+ hours of total battery life. Also, You can fuel the charging case through a USB-C port which is a plus point. Overall the Realme Techlife T100 is a great value for your money.
Pros
Stylish and dual tone design
Amazing sound quality, natural tuning with decent detail
Very lightweight and comfortable
Decent microphone
Google fast pair support
Latest Bluetooth V5.3
Value for money
Cons
Average battery life
Worst latency rate
Bluetooth v5.3
IPX5
10 MM Driver
IWP Technology
Google Fast Pair
AI ENC
Game Mode
Realme Link App
Also Read :